Regular price
Sale price
€6,00
Unit price
per
Sale
Sold out
Amnesia Frozen Dry - CBD Indoor: CBD flower grown indoors
The Amnesia Frozen Dry Indoor CBD flower is a jewel that you cannot miss adding to your collection. Produced on a farm in Italy, this strain has been grown indoors, protected from the elements and possible pests, under the careful supervision of a team of hemp experts.
Controlled and Responsible Cultivation
Throughout its growth, Amnesia Frozen Dry received special care and attention. From lighting to humidity level, including temperature and nutrient intake, everything has been meticulously controlled to provide the best possible environment for development. This ensures that Amnesia Frozen Dry can offer the best of her genetics.
Like all the plants in our catalogue, Amnesia Frozen Dry Indoor has grown without any pesticides and/or chemical fertilizers. Its roots, leaves and shoots have only received natural and organic products.
A Rich and Aromatic Variety
Naturally below the 0.3% THC requirement, Amnesia Frozen Dry is an original and organic variety, whose trichomes offer an intact cannabis profile, rich in cannabinoids and terpenes.
Its citrus and woody notes are particularly notable. We strive to preserve its valuable trichomes during harvest and manicure, ensuring an authentic aroma and flavor.
Characteristics of Amnesia Frozen Dry Indoor
Appearance:

Wonderful, very compact buds obtained from indoor cultivation and dried using the Frozen Dry method.

Smell/Taste:

Citrus and sweet aroma with very marked fruity hints.
Responsible Packaging
At CBDACASA , we are proud to use ecological and efficient packaging that adequately preserves CBD flowers without losing freshness or aroma, we use opaque and isothermal bags with hermetic closure.
Certificados

Cultivada por pequeños agricultores europeos de manera sostenible y ecológica. Llevadas a su grado óptimo de maduración y secado para un posterior curado y envasadas al vacío para su mejor conservación.
Envíos

At CBD a casa , your well-being is our top priority and your satisfaction, our goal. To make it easy for you to access the superior quality of our CBD products, we offer you unbeatable prices and fast shipping (24-96 hours).

In addition, we want you to save even more: we offer you free shipping in Spain for purchases over €65 and in Europe if your purchase exceeds €100. Our commitment is to allow you to buy quality CBD online, from any corner of Spain and Europe, at an even more competitive price.

Your path to well-being has never been so accessible and fast!

Our offer has almost no operating margins, since it seeks to maximize the economic price directly with each promotion. We ship once a day, Monday through Friday , to further optimize quality and costs. However, we want to reward your loyalty and for this reason, we are willing to invest in you if you invest in us.

We have opted for a model that serves the entire sector, with high-quality products at the best price. If you can think of a way to promote us, collaborate or have any ideas, please CONTACT US!

😎 Shall we tell you our secret? Full transparency with you.
Compromiso y devoluciones

CBDACASA.ES works rigorously with high quality standards, for the satisfaction of our users.

Therefore, as a user and consumer, you have 14 calendar days - from the day the order is received - to withdraw from the contract entered into between us and request the return of the ordered products; After this period, returns will not be accepted.

To return an order, please contact us through the contact page, with the order number informing of your decision to withdraw and, once you have received a confirmation email from CBDACASA.ES , you can return the products to the indicated address.

The items must be returned, under the responsibility of the user, new and in the conditions in which they were delivered, without having opened the package. The user must keep the receipt as proof of shipment.

Once the integrity of the returned product has been verified, we will proceed to refund the amount of the order, to the user's bank account, within a maximum period of 7 days.
Compartir el producto 💌
View full details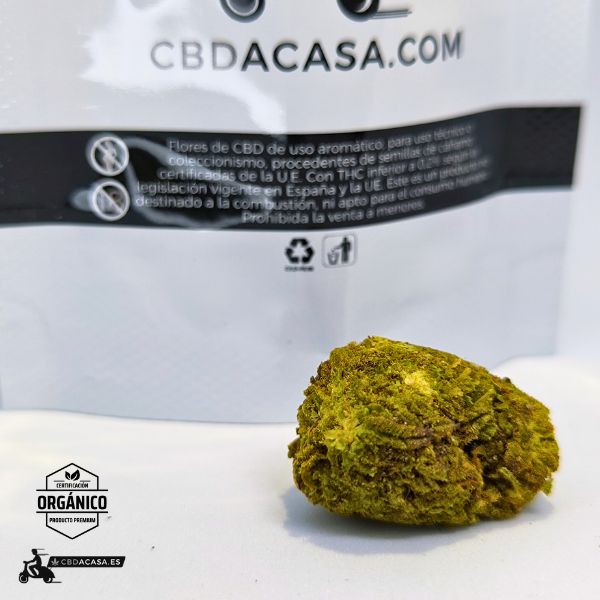 Productos Seguros con Oferta Limitada
🏷 Corre porque las ofertas vuelan. La razón de los precios es porque negociamos grandes cantidades, pero un stock pequeño se pone a disposición de ventas minoristas. 
Recuerda: Según los estudios, el CBD es un producto seguro, no adictivo, no tiene efectos secundarios graves y sus propiedades terapéuticas son reales según el informe redactado por Organización Mundial de Salud. Sin embargo, la nueva regulación obliga a CBDaCasa a advertir que sus productos no son aptos para el consumo humano. Si quieres aprender más, visita nuestro blog cbdacasa.online
Envíos a partir de 65€ gratis a España (península)

CBDacasa financia el envío de CBD a domicilio, para todos los pedidos superiores a 65€ en España y 100€ Europa. 

Optimizando costes y calidad de los envíos, realizamos uno por día, de lunes a viernes.

Certificado producto Orgánico

Cultivada por pequeños agricultores de manera sostenible y ecológica. Llevadas a su grado óptimo de maduración y secado para un posterior curado y envasadas al vacío para su mejor conservación.
¿Tienes dudas sobre las flores CBD?
¿Qué contiene el cannabis legal?

El análisis químico de una planta de cannabis legal muestra que contiene más de 400 compuestos orgánicos diferentes, con dos familias químicas principales: los terpenos (10-30%), de los que se desprende el perfume a marihuana y, los cannabinoides, en este caso fitocannabinoides ya que son de origen vegetal.
¿Cuánto CBD hay en una planta de cannabis?

Mientras que, en la marihuana clasica, el THC representa el 12-25% de una planta de cannabis, el cannabidiol o CBD sólo representa el 1-4%, razón por la cual este fitocannabinoide ha pasado desapercibido durante mucho tiempo. Sin embargo, en nuestras flores de CBD, mientras el THC es siempre inferior a 0,2%, tenemos porcentajes de Cannabidiol que pueden varias de 5 a 25%.

A nivel científico, es un cannabinoide vegetal bicíclico y lipofílico, conocido en la terminología química internacional como 2-[(1R,6R)-6-isopropenil-3-metilciclohex-2-en-1-il]-5-pentilbenceno-1,3-diol.
¿Qué son las flores de CBD o marihuana CBD?

Las flores de CBD son simplemente cogollos de cannabis ricos en cannabidiol que se cosechan de una variedad de cannabis legal. Esto significa, por tanto, que la variedad ha sido especialmente seleccionada por su riqueza en CBD y la práctica ausencia de THC (<0,2%). 

Una vez que se ha alcanzado el ciclo de floración y las flores de CBD han alcanzado la madurez, se cosechan, luego se secan y finalmente se envasan para que te las puedan enviar. 

El interés de las flores de CBD radica en que están recubiertas de tricomas, pequeñas vesículas que contienen en particular cannabinoides, terpenos y flavonoides: es gracias a ellos que puedes beneficiarte de los efectos y aromas del cannabis legal. .
¿Cómo utilizar las flores de CBD?

Fumar flores de CBD, aunque sean legales, sigue estando prohibido. Sin embargo, en algunos paises de Europa, se recomienda consumirlas por vaporización o infusión. Ricos en colores, también son originales objetos de decoración en España para algunos coleccionistas. 

El uso de las flores de CBD en Francia es muy sencillo y, nuestros vecinos nos lo cuentan: 

- vaporizan flores de CBD colocando la cantidad deseada en el tanque de su vaporizador de material vegetal y luego siguen las recomendaciones de uso del fabricante para disfrutar del vapeo.

- Tambien, se hacen infusión de flores de CBD de la siguiente manera: pican su flor colocando una cucharada en agua hirviendo durante unos diez minutos. Nos dicen que lo consumen preferiblemente con una sustancia grasa (leche entera en particular) para beneficiarse de los efectos del CBD.
¿Conoces el té e infusión de flores de CBD?

Las infusiones con CBD o cannabidiol son una maravillosa alternativa de uso de cannabis legal en determinados paises. El té y las infusiones ya de por sí tienen muchísimos beneficios y deliciosos sabores, con lo que mejorar estas bebidas (frías o calientes) con las propiedades de los cannabinoides nos permitirán maximizar todos sus beneficios para reducir el estrés, la ansiedad, mejorar la concentración o prepararnos para ir a dormir mejor.

La infusión de cannabis legal con CBD es un popular método de ingesta de CBD en Francia igualmente eficaz que las cápsulas o los comestibles, pero estos últimos actualmente sólo se pueden encontrar en países donde el CBD ingerido sí está regulado como Novel Food (eg. Reino Unido).
¿Son psicotrópicas las infusiones de flores de CBD?

El cannabidiol o CBD y el CBG o cannabigerol son dos moléculas de la planta de cannabis que al no ser psicotrópicas no tienen la capacidad de alcanzar el famoso "high", con lo cual realizando infusiones con CBD no es posible colocarte… eso únicamente se consigue al consumir THC, el componente que convierte a la marihuana en estupefaciente o droga.

Por mucho que le metamos CBD al cuerpo humano, esta molécula cannabinoide no es capaz de colocarnos y lo mejor: no tiene efectos secundarios de relevancia.
¿Qué beneficios tienen las infusiones de CBD?

El CBD en infusión puede ayudar contra el insomnio, la ansiedad, los dolores de estómago, dolores leves y sobre todo para la relajación muscular. Todo esto gracias a sus efectos equilibradores, antiinflamatorios y relajantes. En infusión, a diferencia de otras vías de administración conseguimos un efecto más prolongado que a nivel sublingual, un impacto mayor que a nivel tópico, y un resultado más saludable que los que vapean, vaporizan o fuman flores de CBD, todo y que, en España, las flores de CBD son elementos decorativas que pueden servir como un ambientador de casa
¿Cómo se podrian hacer infusiones de CBD?

1. Infusiones de CBD utilizando las flores

Permite al usuario disfrutar de los muchos beneficios de las flores de CBD pero como una alternativa saludable al humo o la vaporización, sin exponerse a los riesgos y daños que el humo puede causar en nuestro organismo. Un método que se recomendaria para personas con enfermedades de garganta, de boca, con afecciones respiratorias o que directamente no quieran humo en su cuerpo.

2. Infusiones con aceite de CBD

Normalmente los aceites de CBD combinan el método sublingual y oral, ya que primero se retiene el aceite debajo de la lengua y luego se traga el resto, combinando las ventajas de ambos métodos. De manera sublingual los efectos son más rápidos, y de manera ingerida los efectos son más duraderos.

Si quisieramos alargar el efecto del CBD, incorporar aceite de CBD a las infusiones seria una sencilla manera de conseguirlo.